He Pikorua

He Pikorua is the shared practice framework for Ministry of Education Learning Support practitioners and Resource Teachers: Learning and Behaviour (RTLB).
He Pikorua brings learning support practitioners together alongside whānau and educators to support the learning and well-being of mokopuna.
LSC and SENCo have an important role within this mahi, so by using the elements of He Pikorua in Action, a collaborative inquiry, we have a shared approach and a common language.
When you return to the home page of Te Rourou you will see each He Pikorua in Action element has its own tab at the bottom of the page. When you click on these tabs it will introduce the element to you and give you options to 'strengthen your understanding' and 'support your mahi'. The resources, links, tools and ideas in these pages are intended to support you to think about your role, with others, within He Pikorua in Action so that you can use this process to understand and plan for the strengths and needs of ākonga in your learning community.
Watch this video to learn more about He Pikorua in Action.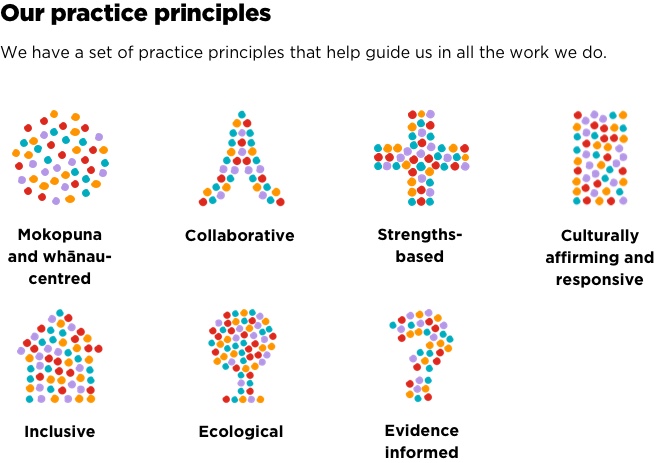 Click on the image to learn more about these principles
Mokopuna and whānau-centred
Mokopuna and their whānau are at the centre of decisions, actions and practices that affect their interests, goals and well-being.
Strengths-based
We commit to using holistic, strengths-based approaches which enhance the mana of mokopuna, whānau, kaiako and their community.
Culturally affirming and responsive
We acknowledge and celebrate the diverse identities, languages and cultures of mokopuna, whānau and kaiako.
Inclusive
We support mokopuna and whānau to actively contribute and belong within their learning settings and community.
Ecological
We focus on the important connections between mokopuna, their learning environments and their relationships with others.
Evidence informed
We position evidence as the dynamic interaction between research and inquiry, the perspectives and experiences of whānau and mokopuna, and practitioner and kaiako knowledge.
Collaborative
We work in partnership to develop, share and achieve mutually agreed goals.
Download PDF for a reflective template on the practice principles.